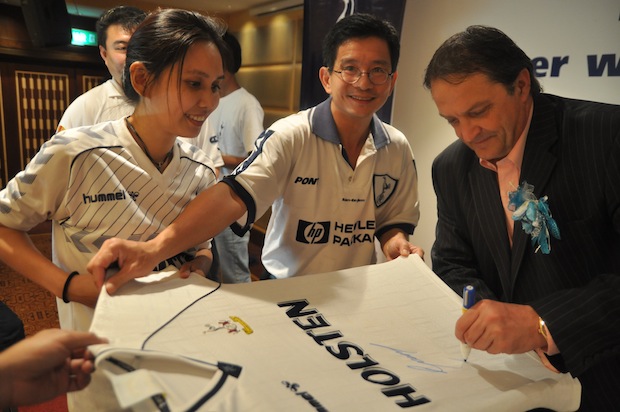 8 or 9 years ago, when a small group of us was wandering from pub to pub in Sri Hartamas searching desperately for a venue that would feature our live matches, never in my wildest dreams could I envisage sitting next to Gary Mabbutt, chatting over dinner. But that I did and my feet have not touched the ground yet. I am sure, looking at the happy faces that Tuesday night, that all of us who attended felt the same way, up close with one of our football heroes.
Despite a hectic day of 3 sessions of interview at the Astro studio and being held up in traffic in transit, Gary was so accomodating and the perfect gentleman, signing more than 200 autographs by my estimate. Ever eloquent, he shared anecdotes of his playing days, the South Africa World Cup bid, Paul Gascoigne, the 86/87 team, the 87 FA Cup final own goal(!), John Fashanu(!!), amongst others. He had 9 offers for a fooball managerial position but turned them all down as he wanted to spend more time with his family. He does not play football anymore and for exercise, he plays tennis with his daughters, aged 8 and 13, besides walking his dog, a Border Collier named Jack! (OK, cut out with the snigger already, I could have easily ommitted that.) The best team that he played in was the 86/87 team that he said would, in its pomp, given our current squad a run for the money.
I grew up in awe of players like Perryman, Ardilles, Hoddle, Roberts, Waddle and I left Seri Pacific Hotel that night still in awe of their illustrious team-mate, a wonderful ambassador of our beloved club.
Jack Wong
President Malaysia Spurs