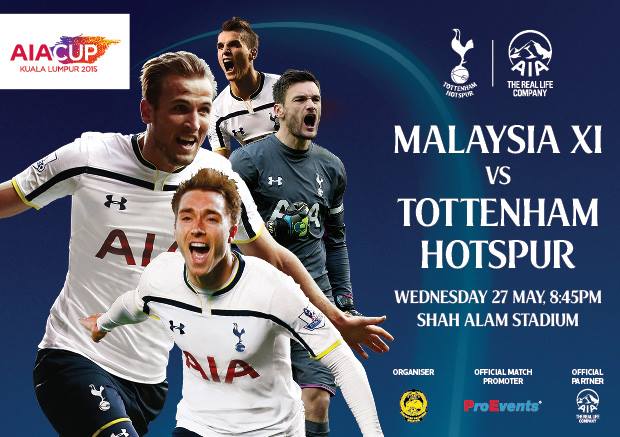 THE AIA CUP 2015
Tottenham Hotspur FC Tour
Kuala Lumpur
Dear members and fans of Tottenham Hotspur,
Last week, at a media conference by officials of our beloved football club, it was confirmed that Spurs will be playing a post-season friendly against the Malaysian national team. To many of us, it will be the first time we will be watching our current heroes in the flesh. Indeed, all of us are extremely excited about this major event.
The fact is, Malaysia was chosen over a host of other Asian countries as one of the stops for Spurs as they head for the far east for their post-season activities. At the Exco level, we have been working hard since the Legends Tour of 2014.
Admittedly, we do not have the ultimate influence, but since the tour, we continued to build the relationship with London and with AIA. We did float the proposition that KL makes the best south east Asian location for the team to play, given its good infrastructure and its relatively attractive cost to the region. We argued that the latter meant Spurs fans from around Asia will find coming down here attractive, as compared to say Tokyo or Singapore.
So when news first broke out of the team's friendly in Sydney, we sent feelers out to our friends at AIA Malaysia as well as Under Armour SEA.
Earlier this week, the Exco sat for a formal meeting to finalise plans for a host of activities. Prior to that, WhatsApp discussions went on at a feverish pace. We are listing down below the TENTATIVE programme for Spurs, as well as activities that we will negotiate for with Football Association of Malaysia, London, ProEvents as well as AIA Malaysia. These are tentative, and once we receive the nods from all parties, we will keep you looped.
But before that, there is the small matter of our annual general meeting. Since the AGM will be held on 25 April 2015, which is before the game between Spurs and Malaysia, the current Exco will form an AIA Cup Project Team. For now, this team will consist of the Exco and several other members that have expressed their interest to help out (thanks!). We are always happy to welcome more as we will need as many hands as possible.
Contact us if you want to be part of the AIA CUP PROJECT TEAM 2015.
Post the AGM, and upon the formation of the 2015/16 Exco, they will be drafted into ACPT2015 to deliver the project TOGETHER. This will enable some continuity of discussions between the existing Exco and the new one with all the parties.
OK, now that that's out the way, let's get down to business.
Here's the team's very short travel itinerary:
Arrival 26 May, morning
Depart 27 May, midnight
As you can imagine, it will be quite difficult to organise many activities but we will try to do as much as we can subject to London's willingness to accommodate us. The visit is also through weekdays, so you may need to apply for leave. So here is the rundown:
1. FINAL GAME VIEWING PARTY (AIA TOWER, KL)
Our final game is away to Everton on Sunday, 24 May, and AIA Malaysia is organising this is. The surprise is this will include the members of the THFC Board, which will arrive the day before.
There may be interest from regional Spurs fan clubs as well, but we will negotiate to ensure seating/attendance is prioritised for Malaysian members first. Remember, AIA is host so they may offer some seats to their policy holders (looking for that policy now, eh?)
We will keep you informed as AIA finalises their plans for this.
To ensure the board remembers us, we have planned a unique gift for them. The gift is a framed picture collage of YOUR pictures:
a. at WHL, or
b. at a Spurs game anywhere in the world, or
c. with a Spurs player/legend/official/coach, or
d. wearing a Spurs kit of any era, or
e. at a viewing party anywhere, or
f. all of the above
Please start dusting those photo albums and send clear copies (not originals) to exco.myspurs@gmail.com immediately. The closing date is 10 May 2015.
2. FIVE-A-SIDE TOURNAMENT WITH SPURS COACHES (WISMA FAM, PJ)
On Monday, 25 May, AIA and ProEvents plan to organise the above. Its an 8-team tournament, with 6 teams comprising of 2 from Malaysia Spurs, 4 from regional Spurs supporters clubs and 1 each from AIA and FAM.
The teams are divided into two groups, each group champion plays in the final, and the winner advances to the grand final pitted against the Spurs Coaching Team! Tantalising!
Who have we contacted to come? Singapore, Vietnam, Thailand, North Korea (yeah, right) South Korea, Japan, India, Bangladesh, Indonesia and Brunei.
Who can play for the two Malaysia Spurs teams? They should be members of the club (you can apply/renew immediately), and selection for this is planned to be held on 2 and 9 May. Still time to polish those Rabonas and side steps…
3. TEAM WELCOMING RECEPTION (TEAM HOTEL, TBA)
London has declared that no airport reception is being planned, but a hotel welcoming may be on the cards. If so, this will happen on Tuesday, 26 May, and should be in the morning. This will likely be open to the public. We will advise on this activity one the details are sorted out.
4. PUBLIC MEET-&-GREET SESSION (VENUE TBC)
London has indicated that the above may happen on Tuesday 26 May, in the afternoon. We will advise on this activity once the details are sorted out.
On the side, the Exco will be asking for a Malaysia Spurs-exclusive meet-&-greet before open training on 26 May night (see below) or before the public meet-&-greet above.
5. SPURS OPEN TRAINING (SHAH ALAM STADIUM)
This night event on Tuesday 26 May is an open session, and it's free. Timing details are yet to be finalised and subject to weather considerations.
6. MATCHDAY (SHAH ALAM STADIUM)
a. A Breakfast With Legends session has been proposed for 27 May, but this awaits approval from London. David Ginola has been unofficially and casually mentioned as joining the tour. The roving ambassador Ledley King will miss the tour as he is getting married in and around the same time of the tour.
We currently do not have further details to this.
b. AIA and ProE are also planning some side activities from 5:00pm at the stadium grounds. Look out for details in the local dailies as the day approaches.
c. The Exco will be writing to London to propose a special activity for club members on matchday. The proposal is for as many of our members to form a welcoming lineup on the field as Spurs is announced to enter the stadium. This in our opinion, would be the ultimate experience for all of us Malaysia Spurs members. Pray hard that London okays this!
7. FANS MOTM VOTING via MALAYSIA SPURS TWITTER HANDLE
This unique idea aims to boost our Twitter following. By the 60th minute, three names will be tweeted as candidates. The winner will be the most retweeted player. It can also be organised via the FB platform with the most liked picture winning the award.
The 2015/16 President will be given the honour to present the plaque to the player.
This is subject to approval from FAM, London and ProEvents.
That's it. We are all fired up, and we are sure you are too! Spurs' arrival in Malaysia again after 36 years and 4 days is indeed an honour! The Exco will try our hardest to get things as proposed but we hope you'll understand that many of these depend on approval from sponsors and organisers, so keep hoping for the best!
The Exco will also create personalised Malaysia-centric banners at stadium, and plan to make a unique Spurs chant for Malaysia using a song everyone knows, like Rasa Sayang Hey or Enjit Enjit Semua, or the like. Any ideas? Tell us! And tell us too if you want to be part of the ACPT2015; we need all the help we can get and more!
COME ON YOU SPURS!