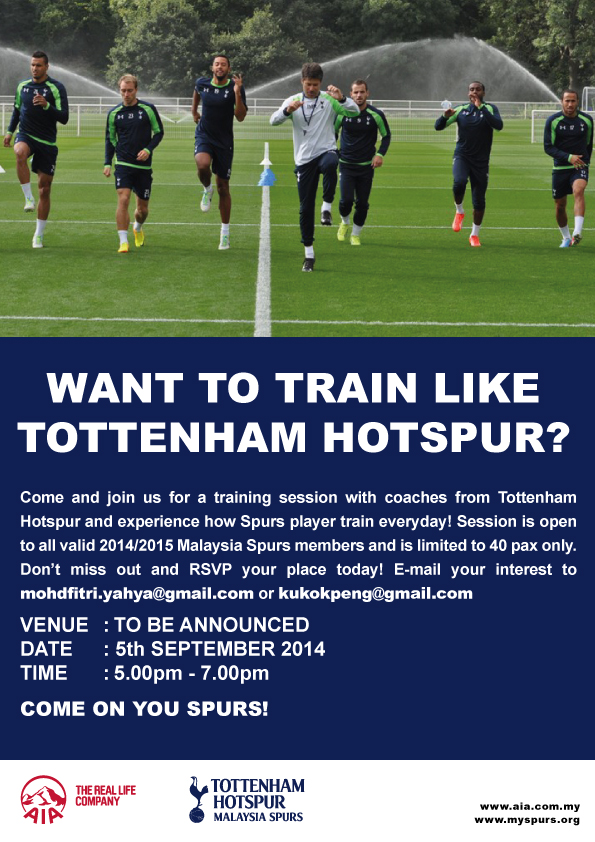 Dont miss the chance to train with Tottenham Hotspur coaches in Kuala Lumpur. Session is open to all valid 2014/2015 Malaysia Spurs members and is limited to 40 pax only. Don't miss out and RSVP your place today! E-mail your interest to mohdfitri.yahya@gmail.com or kukokpeng@gmail.com
EVENT UPDATE
VENUE :

Sri Utama School, Lot 27, Jalan Usahawan 5, Kawasan Perindustrian Ringan Setapak, 53200, Kuala Lumpur.
DATE :
5th September 2014
TIME :
4.00 pm (Training session will start sharp at 5pm and finish at 7pm)
ATTIRE :
MySpurs yellow color jersey or Tottenham Hotspur jersey. Other jerseys or shirts are not allowed to wear in this training session.
ADDITIONAL INFORMATION :
Participants must be on time and advisable to take half day leave during that day to avoid any late attendance.